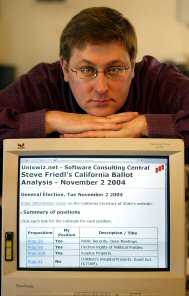 Before each election, I have traditionally written up an analysis of the California ballot measures and send it to my friends. It's not always obvious what the "real" agenda is on each one, and even with clear purposes there are often competing interests at play.
These writings are the result of my own analysis, which comes from a libertarian perspective, and I'm not knowingly affiliated with any party behind any ballot measure. I believe that mere lists of "vote yes" or "vote no" are not very helpful except for sheep: it's important to know why one is urged to vote in any given direction.
I would rather you vote against my position because you had an opposing view than vote with my position because you flipped a coin.
I don't write at all about individuals running for office, and only rarely about local issues (such as County measures).
In some cases I am either undecided or only weakly decided: I always invite thoughtful arguments you think I might have missed.