I am a Southern California native who has spent the better part of my life working with computers. From writing proprietary-language compiler tools back in college, to security consulting and communications controllers today, I've acquired an enormously broad background in technology thanks to a diverse customer base and a very curious mind. I'm a fantastic problem solver and love technical challenges.
I have outstanding customer references available upon request, and in most cases can provide them for specific projects described here.
In addition to the topics mentioned here, I've had my fingers in most of the other bits of important technology and am able to apply that experience to new projects.
Education, Awards, & Career Background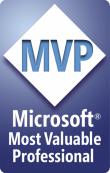 I took a Bachelor's degree in Mathematics/Computer Science, and was fortunate enough to receive an introduction to UNIX and C programming in early 1981. I have been immersed in UNIX and C for the whole of that time, and this experience encompasses many industries and disciplines. You can read more of my history.
In October 2003 I was named a Microsoft MVP (Most Valuable Professional) for "Windows Servers - Security". This is a retrospective award made to those who have made contributions in third-party support forums, and I earned mine in the DSL Reports Security Forum. This award had been renewed from 2004-2010, though I took a break in 2011 when I asked not to be reconsidered this cycle.
I believe I was the only Microsoft MVP with unix in his domain name, and occasionally joke that I was the "Linux MVP"
Internet Infrastructure & Security
I've had a fulltime internet connection at my home office since 1994 and have been responsible for setting up customer routers and firewalls since that same year. I currently manage around a dozen customer networks, firewalls, and internet servers.
Specific areas of practice:
Communications Controllers
In addition to UNIX fax, I've created several other industrial-strength communications controllers using serial I/O and IP networking. I am very much at home with data analyzers for both media, plus the operating system constructs that support them. Some of my representative projects:
Databases / Data Conversion
I've used SQL databases since 1984 and have very long experience with them on numerous platforms. These include Unify, Informix, Sybase, C-ISAM, mySQL, MS-SQL, Interbase/Firebird and IBM's DB2. I've used embedded SQL and db-library style interfaces in addition to the more traditional "raw" SQL.
C/C++ and UNIX/Win32 Systems Programming

I have been using UNIX since January 1981 and programming in C since the summer of that year. I have used nearly every UNIX machine ever made save for a Cray, and have ported to something like 50 platforms over my career. "Portability" is my middle name. I also have extensive experience with the Win32 platform, particularly under Windows NT. I am generally as comfortable with OS-level work on NT as I am in UNIX.
Representative projects include:
Embedded Development
Most of my work has been on more traditional computer platforms, but I've done a number of embedded hardware and software projects as well. In college I did extensive development on the 8051 platform on hardware of my own design, and though I'm long past the point of being qualified for any real hardware design, I still keep my hands in the software end of it.
Notable projects include:
Training / Technical Writing
For several years I travelled to teach week-long classes in C and UNIX programming to such companies as IBM, BellSouth, Goldman Sachs, plus an Efficiency, Portability and Maintainability class at AT&T Bell Laboratories in Holmdel, New Jersey. I routinely received outstanding reviews for my clarity and enthusiasm: my students could tell that they were learning from a real, live, firebreathing developer.
I was also a volunteer English as a Second Language (ESL) instructor for many years, and I'm very comfortable in front of a crowd.
I have also been a technical reviewer on dozens of books, some with more involvement than others. I've been credited in at least these publications:
There are many more, but most of them don't seem to be on the shelf at the moment.
Languages and Technologies
In addition to the project-related information above, I have skills in these more general technologies: